Engr. Suleiman Hussaini Adamu, FNSE, FAEng.
The Honourable Minister, Federal Ministry of Water Resources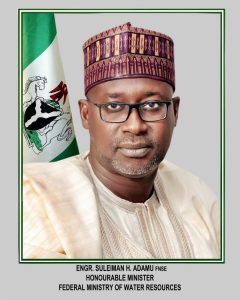 Engr. Suleiman Hussaini Adamu FNSE, FAEng. is Minister of Water Resources with a rich pedigree in the public and private sectors of Nigeria's development. He obtained a Bachelor of Engineering degree in Civil Engineering from Ahmadu Bello University, Zaria, Nigeria in 1984 and Master of Science degree in Project Management from the University of Reading, UK in 2004. He was Winner, Nigeria Ports Authority Prize for the Best Final Year Student in Civil Engineering in 1984.
He commenced his carrier in the Nigerian public sector and later co-founded a private engineering consultancy firm with core competence in Civil, Electrical, Mechanical and Environmental Engineering Consultancy based in Kaduna, Nigeria.
He has delivered many engineering and infrastructural projects in Nigeria, including roads, water supply, public & private buildings and many social development projects in the health, education and agriculture sectors for the defunct Petroleum (Special) Trust Fund (PTF).
Engr. Suleiman has been President of the Association of Consulting Engineering in Nigeria (ACEN) from 2015-2017. He is also a distinguished Member of Council for the Regulation of Engineering in Nigeria (COREN). He is a Fellow of the Nigerian Society of Engineers (FNSE), Member American Society of Civil Engineers (MASCE), Fellow Nigerian Institution of Water Engineers (FNIWE), Fellow Nigerian Association of Hydrogeologists (FNAH) Fellow Nigeria Mining& Geosciences Society (FNMGS) and Fellow Nigerian Academy of Engineering (FAEng.)
Since assuming office as the Minister of Water Resources in November 2015, Engr. Suleiman has brought his diverse wealth of professional engineering and business experience to bear on the Nigerian Water Sector. His visionary leadership has catalysed positive impact in the Sector, especially with the approval in 2016 of the Water Resources Roadmap, Water Resources Bill, National Water Resources Policy and the National Irrigation & Drainage Policy by the Federal Executive Council. He is currently leading a vigorous effort to ensure that Nigeria attains the UN Sustainable Development Goals, specifically Goal 6, by collaborating with various stakeholders under the programme "Partnership for Expanded Water, Sanitation and Hygiene" (PEWASH) which he initiated in 2016. Engr. Suleiman also anchored the process that led to Federal Executive Council (FEC) approval of a National Action Plan on Water, Sanitation and Hygiene (WASH) in February 2018 and declaration of State of Emergency on the Sector by President Buhari in November 2018. He has since 2017 championed a national campaign to make Nigeria Open Defecation Free by 2025 and has been the leading promoter and architect of the Open Defecation Free Nigeria Roadmap and Presidential Executive Order No. 9,which gives legal and top level political backing to the ODF Campaign.
He was a key player in the promulgation of Executive Order No. 5 in February 2018, towards maximising local content in Nigeria's infrastructure and economic development.
He was reappointed Minister of Water Resources in August 2019 and is the current Chairman, Council of Ministers of the Niger Basin Authority (NBA) and Lake Chad Basin Commission (LCBC).
He is a member of Kazaure Emirate Council and holds the traditional title Danburam Kazaure, conferred on him in 1998. He is an avid golfer and was Captain of Kaduna Golf Club from 2014-2016.
He is happily married and blessed with 4 children