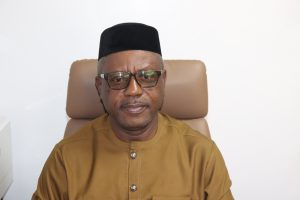 Engr. Adeyinka A. Adenopo
Director, Water Resources Planning & Technical Support Services.
Born in Lagos, Nigeria on June 16, 1966. He attended Somolu Local Government Primary School, Bariga, Lagos from 1973-1978 and proceeded to Abeokuta Grammar School, Abeokuta for his secondary education, which he completed in 1983. He earned a Bachelor Degree with honours in Agricultural Engineering from Obafemi Awolowo University, Ile-Ife in 1989.
Engr. Adenopo's career in the Federal Civil Service started in April, 1991 as an Irrigation Engineer II and rose through the ranks to the post of Director in 2021. During the course of his career in government service, he acquired additional trainings and professional development in water resources management. With scholarship awards from The Netherland Government, he obtained post-graduate certificates in Land Drainage from International Land and Reclamation Institute (ILRI), Wageningen, The Netherlands in 2001 as well as in Remote Sensing & Geographic Information System in Water Resources Management at the International Institute for Geo-information Science and Earth Observation (ITC), Enschede, The Netherlands in 2006. He also attended several other local and international professional courses.
Engr. Adenopo has considerable experience in development of irrigation and drainage systems, integrated land and water resources development and management, hydrology and water distribution network. He has over three decades of cognate experience in Water Resources Management. He is registered with the Council for the Regulation of Engineering in Nigeria (COREN) and is a member of Nigerian Society of Engineers (NSE) as well as Nigerian Institution of Agricultural Engineers (NIAE). A member of Policy, Strategy and Leadership Course 14 of the National Institute for Policy and Strategic Studies (NIPSS), Kuru, Nigeria, he is equipped with strategic and leadership training and possesses special knowledge and skills in project formulation, implementation and evaluation having been involved at various times in the implementation of several irrigation projects, including River Basin Irrigation Planning Study. He has excellent interpersonal relationship and decision-making skills. He is highly skilled in the use of computer
Outside his secular career, Engr. Adenopo is a Christian leader, teacher and counsellor.