FEDERAL MINISTRY OF WATER RESOURCES
PRESS RELEASE
OMU ARAN IRRIGATION PROJECT COMMISSIONED IN KWARA STATE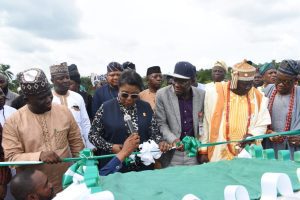 The Omu-Aran Irrigation Project
In Irepodun Local Government Area of Kwara State, has been Commissioned on Monday 22nd May, 2023.
In his address during the auspicious occasion the Minister of Water Resources, Engr . Suleiman H. Adamu, FNSE, FAEng, who was represented by the Permanent Secretary,Mrs. Didi Walson-Jack, MCIPM, mni pointed out that, it is no longer news that availability of water is crucial for day to day existence as well as the socio-economic development of any country, hence the Federal Government's interest and support in making Water Resources Development one of it's cardinal policy thrusts.
According to the Minister, "the Federal Ministry of Water Resources has in line with this policy, developed and implemented policies, projects and programmes that will enable sustainable access to safe and sufficient water to meet the social, cultural, environmental and economic development needs of all Nigerians", adding, "specifically that the Ministry rolled out policy initiatives (2016-2030) including water sector roadmap targeted to meet Sustainable Development Goal (SDG) 6, and the development and implementation of a National Irrigation Development Programme to boost food production".
He also noted that, the Ministry has implemented several strategies towards the realization of Mr. President's June 12 promise to take 100 million Nigerians out of poverty in the next 10 years, stressing that "the Ministry also developed a Blueprint to strengthen the River Basin Development Authorities since they are the enablers for food security and socio-economic development".
The Honourable Minister further revealed that the Omu-Aran Irrigation Project was conceived by Lower Niger River Basin Development Authority in 2015, awarded in 2016 and completed in 2022, pointing out that, the completion and commissioning of the Irrigation Project is a clear testimony of the importance the present Administration attaches to optimum development of the nation's water resources.
He added, "it is worthy of note that the commissioning of Omu-Aran Irrigation Project is happening shortly after the Commissioning of the multimillion Naira Pategi Water supply project which was designed to serve over 200,000 people and handed over to the Kwara State Government. The Ministry has had other key interventions in the State such as construction of Okuta Dam in Baruten LGA, upgrading of Malete Dam in Moro LGA; Sobi Water Works in Ilorin East LGA, and rehabilitation of Agba Water Works in Ilorin West LGA".
While urging the Omu-Aran community to provide an enabling environment and support in other to derive maximum benefit from the project, the Minister stated that, the good people of Omu-Aran community will be able to engage in all year round farming activities, thereby boosting food production and income generation which will in turn bring about general positive change in the overall socio economic well-being of the people in that area and Nigeria as a whole.
Funmi Imuetinyan
Head, Press & PR Unit.